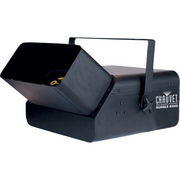 Bubble Machine

Actual Size: 24" X 24"

Outlets: 1, 3 prong outlet

Age Group: n/a
The Bubble King bubble machine is a compact, heavy duty unit that features a unique conveyor that rotates 78 bubble wands and has 2 powerful built-in fans for rapid bubble dispersion.
A SUPER BUBBLER THAT IS THE KING OF BUBBLE MACHINES!
AN ABSOLUTELY AMAZING OUTPUT OF BUBBLES, THAT INSTANTLY CREATES A MAGICAL ATMOSPHERE!!
A 1.5 quart tank needs to be refilled about every hour.