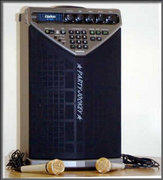 Karaoke Machine

Outlets: 1

Age Group: Recommended for ages 10 and up.

Monitors: 1
This highly entertaining Clarion karaoke machine comes with over 500 pre-programmed songs.
All songs are from the 1990's and older
, including traditional holiday and party songs, as well as popular rock, country and "Top 40" songs of the past. The machine comes with a monitor, 2 microphones and a song list. The monitor displays the words and accompanying background scenes, as well as a USB port to connect your own music storage device. It can be easily connected to a larger TV if desired. Caution: Karaoke quickly becomes the life of any party!